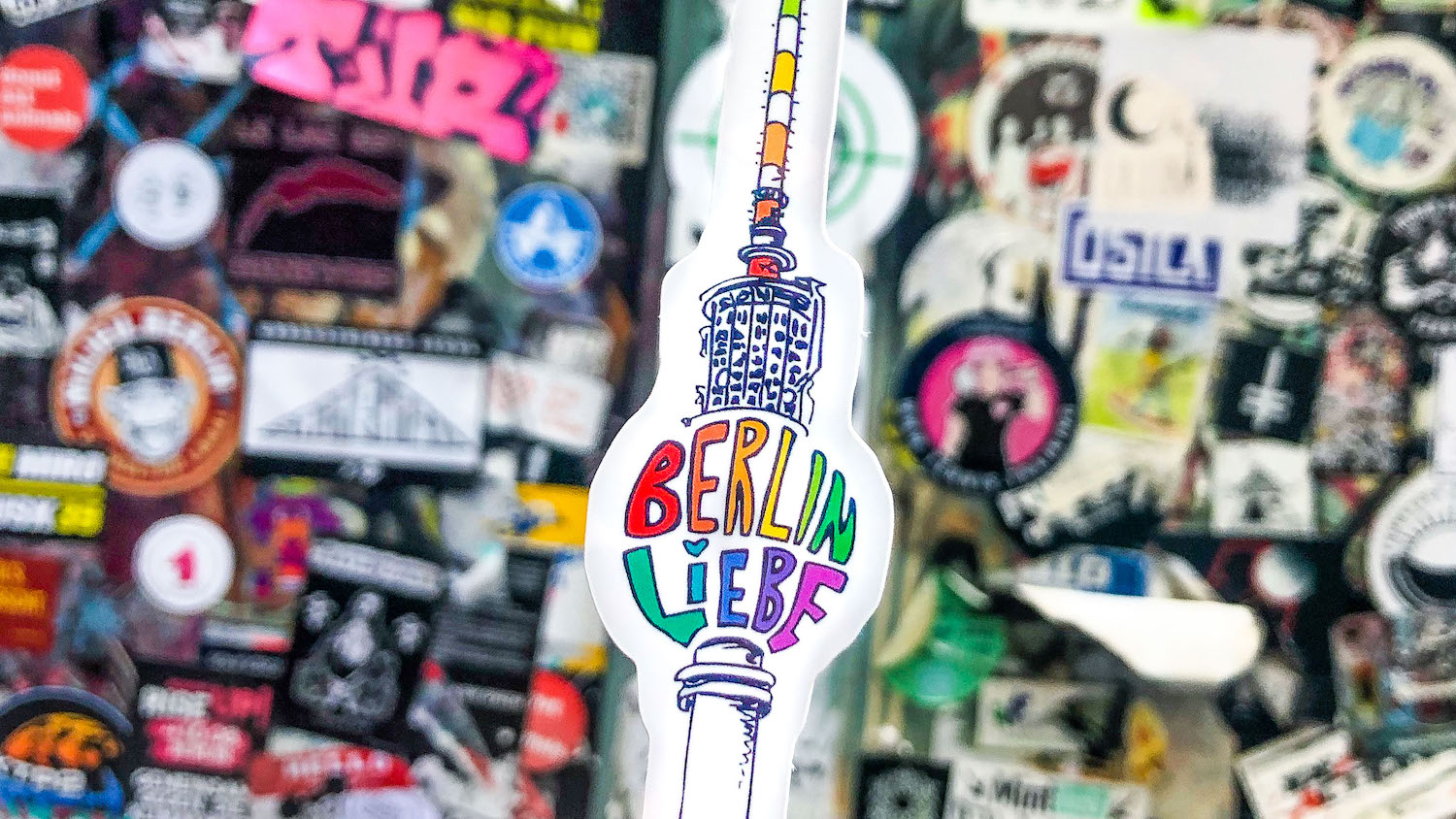 Berlin's most iconic souvenirs
Whether you are in town for just a few days, live here since a few months already (and are looking for the best souvenirs to bring back to your friends and family) or simply are a harcore Berlin-lover (and want to show your love for the city ♥), this article is for you!
Where is the best place to buy unique souvenirs in Berlin?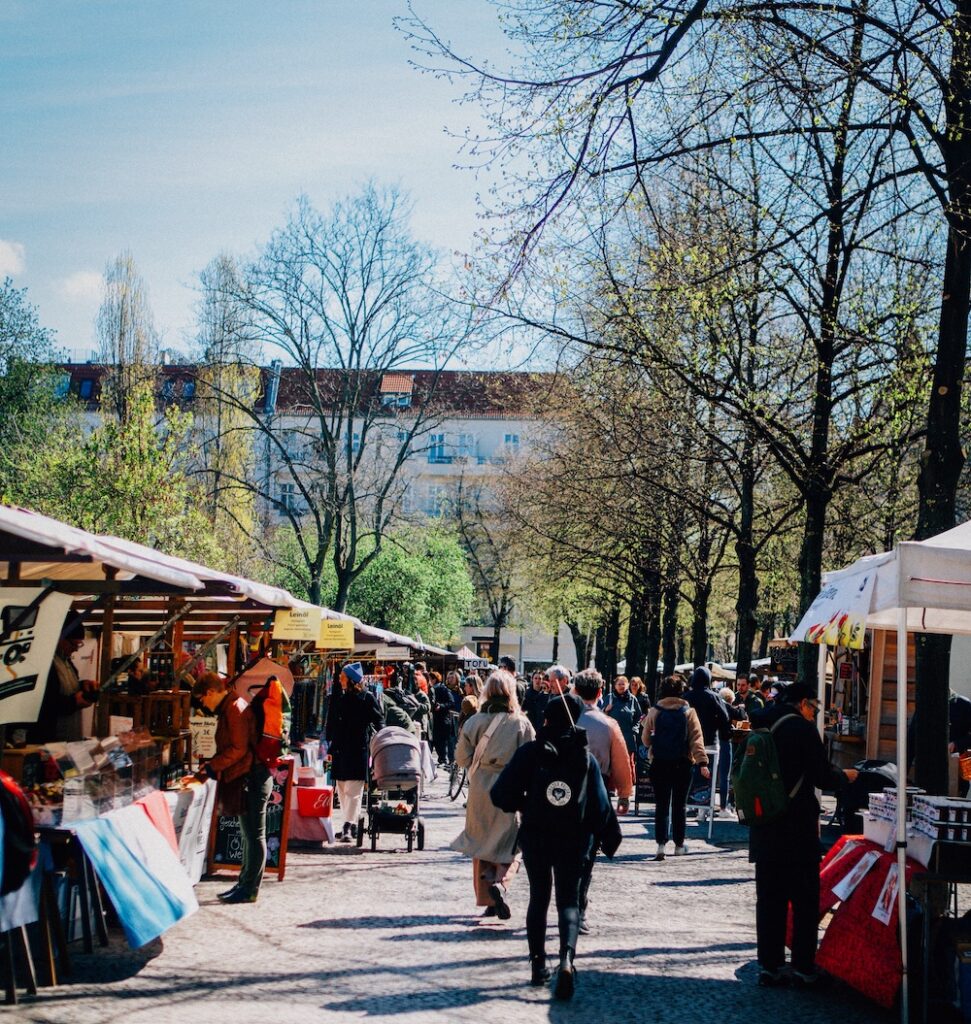 When it comes to touristic souvenirs, it is very easy to fall for mass-produced items without even knowing it!
As a general rule I wouldn't expect finding quality handmade souvenirs anywhere near the Fernsehturm, Checkpoint Charlie, Brandenburger Tor or the Oberbaumbrücke – but never say never; who knows, you might find a secret spot* focused on quality over quantity, where a family business still stands.
Talking about a secret spot nearby a main touristic attraction, if I had to recommend *one* souvenir shop, it would be Vielfach Berlin which seems to be particularly focused on local products and artists. Proof is: many of the souvenirs listed below are available there 🙌
Also as a market lover and seller myself, I can't recommend enough Berlin's markets such as Mauerpark, RAW, Maybachufer, Boxhagener Platz, Weddingmarkt, Kollwitzplatz… and many more.
Berlin's top 10 iconic souvenirs
Now let's cut to the chase and deep dive without further ado into Berlin's 2023 hottest selection of local souvenirs!
#1 Magical posters & postcards by Adventures Illustrated
Of course we had to start with Adventures Illustrated's Berlin map and colourful paintings since Olga generously let us use her iconic map for the cover of our guide back in 2020. For that we will be forever grateful to her ♥ But surely her immense talent is the one reason she is featured in this article! We are big fans of Olga at Small Businesses Berlin and hope you will be too.
Olga's "Berlin map" offers an incredibly detailed view of the city including must-see monuments, iconic local establishments and neighborhood's lifestyle. In a similar spirit her drawing "Cats of Berlin" is an hilarious representation of Berlin's various types of residents. Last but not least, Olga also makes colourful watercolour paintings of places, including the "Berlin's skyline". All quoted artworks are available as posters (A3 & A4) and postcards.
Online orders via DM only | At Kollwitzplatz on Saturdays and RAW on Sundays

#2 Handmade ceramics by nemkaberlin
Discovering Stephanie's Fernsehturm candle holders was actually what motivated us to write this article. Her handmade ceramics completely blew my mind, but what shocked me was to have randomly found her on Etsy while I have been living in Berlin for years and never got the chance to see her wonderful ceramics until then!
Available in several colours and sizes, the handmade Fernsehturm candle holders can also be used as a small vase for flowers. Stephanie's signature creations also include mugs, vases and butter dishes with Berlin's skyline on it. All pieces are made to order in her atelier in Friedrichshagen. A real hidden gem that only true Berliners (and you now) know!
#3 U-bahn mugs & kitchenware by Tom Bäcker
As self-taught photographer Tom always had an eye for the words surrounding him: street art, advertising… and ultimately subways signs 😉 What initially started with a few postcards turned into a solid small business. With permission of the BVG Tom photographed 170 out of the 176 U-Bahn stations & turned them into fridge magnets, mugs, chopping boards and coasters!
Up to this day Tom still manufactures the mugs himself in his workshop (see the Eisenacher Strasse picture for a little behind the scenes). All magnets are printed and produced in Berlin; coasters and chopping boards are made in Germany by a company with a very long tradition. Browse Tom's subways collection by line: U1 | U2 | U3 | U4 | U5 | U6 | U7 | U8 | U9 | S-Bahn
#4 Socks & shoelaces by Offbeat Berlin
Offbeat Berlin is the most recent small business of this article. Founded in 2022 by Junqiao and Hao, the accessories brand is a tribute to the couple's love for the city's diversity. Their vivid & colourful socks and shoelaces feature unique patterns designed by Junqiao, including several Berlin special editions for our biggest pleasure!
The Berlin shoelaces are available in three variations: "I ♥ Berlin" in black, "Berlin Bear" in white and "TV tower" in brown. If you're like us and struggle to decide, you can also buy them all as a bundle 🙂 In terms of socks, Offbeat has two iconic pairs: the purple gigantic "Berlin Bear" and the dark green & pink "Brandenburg Gate".
#5 Postcards, posters & stickers by Kaitlyn Parker
Kaitlyn's art is like an explosion of colors and happiness that you simply can't walk away from. Her style is verstatile – from graffiti writing to monument sketching – but our favorite is without hesitation her vivid doodles made with Sharpie pens. They are just so satisfying, we simply can't get enough of it ♥ Make sure to grab some of her postcards for your friends & family!
Most of Kaitlyn's iconic drawings are available as postcards. The black Fernsehturm with colorful splashes is also available as a printed poster (A5) with hand-finished paint drops. The completely black & white Fernsehturm drawing is actually a "color-it-yourself" postcard – how cool is that?! Last but not least, Kaitlyn has also amazing stickers, including the fantastic rainbow over the Oberbaumbrücke.
#6 Clothes & kitchenware by This City Rocks
Already featured in our guide in 2020, This City Rocks remains an icon in terms of local unique souvenirs. The design label created by Claudia in 2015 makes its own fabrics inspired by Berlin's iconic monuments. The patterns are subtile and blend in so discretely that you most likely wouldn't notice them if you didn't know, so take a proper look at the symbols on the pics ↓
www.thiscityrocks.de | Own shop on Libauer Str. 23, 10245 Berlin, Monday to Friday 12-7pm and Saturdays 11am-7pm
#7 Notebooks & posters by Lufo Art
Lucas' world is at the edge between art and scientific investigation. While he is specialized in spherical perspective drawings (in which you can virtually 'walk'), Lucas is also constantly drawing about his every day life (I wouldn't be surprised if he was sketching in his sleep too 😄).
His Berlin drawings are available as originals, limited series and prints (postcards & A3-A5 posters). "Tuned in Berlin" and "Deconstructing Berlin" can be bought as semi-original paintings as well (black and white printed outline with a handmade watercolour finish). The TV tower is now also a notebook.
www.lufo.art | At Boxhagener Platz on Saturdays, Mauerpark on Sundays and the atelier & shop Workstadt in the week

#8 One of a kind necklaces by The Tinkery
Astrid's love for creative projects led her to Modulor where she worked for a few years before to switch to full time artist in 2021. Her signature pieces are biosphere pendants for necklaces: a miniature world protected by a glass dome housing a tiny handcrafted environment.
www.thetinkery.at | Occasionally at markets – check her Instagram for exact locations and dates
#9 S-Bahn / U-Bahn wooden trains by Bauer & Sohn
Bauer & Sohn is actually not Berlin-based (the company is in Frankfurt) but the story behind this family business is nevertheless beautiful ♥ Andreas' son developed a passion for subways from a young age. After searching for German subway wooden train toys for him without success, the young father decided to launch his own manufacture, starting with the famous Berlin U-bahn trains.
In 7 years of activity the small business has considerably developed. You can now get a train for most of Berlin's U-bahn and S-Bahn lines. They fit on all commercially available wooden railroad tracks. Magnets can be used to couple several wagons together. And in case this wasn't already enough, you can now add wooden subway stations to the circuit 🙂
#10 Hand-drawn playing cards on Small Businesses Berlin
This is quite unexpected, but due to the last minute cancellation of a small business that is not ready for publicity, we ended up with a free spot in the article and are therefore taking the chance to present this unique deck of playing cards by a non Berlin based but nevertheless very talented artist that we are helping to promote locally. We'll publish more about the artist shortly.
The deck of playing cards gathers 52 hand-drawn landmarks such as the TV Tower, Alexanderplatz, Brandenburg Gate, Pergamon Museum, Berliner Dom, as well as many sights of Berlin streets. Each card is unique and has been hand-drawn by the artist while traveling in the city. Originally hand-signed and shipped from the US, the next batch of decks will be locally printed in Germany.
We hope that you enjoyed this selection as much as we do! As this is our first article we would love if you could help us by sharing it with all the Berlin lovers that you know. There will be for sure more articles so stay tuned, follow us on Instagram, subscribe to our newsletter and spread the news!
Are you a small business/artist yourself and would like to suggest a souvenir to be added to this article?